Paved Paradise in Berkeley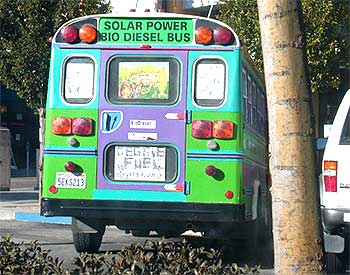 by Turk Kauffman and Lauri Puchall
The following article has been excerpted from LINE, the quarterly design journal of the American Institute of Architects, San Francisco Chapter. LINE can be found at linemag.org.
An old Berkeley school bus transformed into a colorful solar-biodiesel hybrid. Holding onto an old vehicle makes sense from an ecological standpoint, as two-thirds of the pollution created in a vehicle's lifetime occurs in its manufacturing.
Berkeley's antiwar protests of the 1960s and its leadership in the free speech movement have earned it the reputation of home base for liberal politics. With tie-dyed and other colorful social agendas capturing the public eye, "green" concerns have tended to fade into the background. Now, in an era when the global consequences of petroleum dependency are becoming more apparent, ecology and transportation are returning to the forefront. How citizens get from here to there, and how, what, and where they park is already changing in Berkeley.
Berkeley's achievements in the field of environmentalism include a long list of innovations. Through the Ecology Center, the city initiated the first curbside recycling program in the United States in 1973. The Ecology Center continues to produce pamphlets and classes on subjects ranging from the true costs of petroleum, to an introduction to permaculture, to the benefits of solar power and biodiesel. In recent years, grassroots groups such as the Urban Creeks Council, Friends of Strawberry Creek, and Friends of the Five Creeks are attempting to daylight and restore the local network of creeks and bring back wildlife to the watershed.
The nonprofit Green Resource Center, founded in 1999 by the Northern California Chapter of Architects, Designers, and Planners for Social Responsibility (ADPSR), the Sustainable Business Alliance, and the city of Berkeley, offers green building research free of charge to residents through its "Ask an Expert" program. Since 2002, Livable Berkeley has been working to facilitate what founder David Early calls "smart growth." EcoCity Builders founder Richard Register--also founder of Urban Ecology (1975)--advocates car-free, people-centered urban space.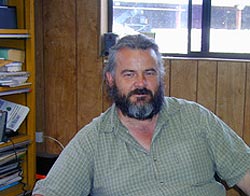 Dave Williamson manages curbside recycling for the City of Berkeley. Berkeley operates the largest fleet using 100% biodiesel (B-100) in North America.

With the support of these and other local organizations, and the guidance of the City of Berkeley Transportation Department formed in 2002, the city is beginning to offer viable alternatives to private automobile transportation. At the same time, Berkeley is growing. A news release from UC Berkeley projects that the city population will grow 6 percent and university population grow 12 percent by 2020 within established city limits. Fortunately for visitors, residents, local employees, and businesses, Berkeley is introducing plenty of new ideas, programs, and amenities.

In an effort to reduce the number of cars downtown, the 2001 City of Berkeley General Plan has placed a cap on city parking at 2001 levels. According to Peter Hillier, assistant city manager for transportation, there is the added stipulation that all new city-owned parking be added in one location only--the existing 420-space Center Street garage. This garage is seismically unsafe, but no date has been set for its demolition.

Transitioning to a Car-free Life

Some groups point out that car usage for employees who work downtown, on campus, and in the Southside neighborhood is already the lowest in the East Bay, at only 46 percent. The census determined that just over half (52 percent) of Southside residents owned a car in 1990. The statistic was slightly lower (46 percent) in 2000. Because so many residents, especially students, live without cars in Berkeley, EcoCity Builders, Berkeley Ecological and Safe Transportation Coalition (BEST), and the Preservation Institute authored a car-free ordinance to eliminate parking requirements in designated high-density areas. (Go to: www.preservenet.com/carfreehousing and click on "Draft Car-Free Housing Ordinance" to view the ordinance.)
Richard Register, founder of EcoCity Builders and author of Ecocities: Building Cities in Balance with Nature, at the 2004 Watershed Poetry Festival in Berkeley.

While the city has not adopted the ordinance, and planning documents don't mention transfer of development rights explicitly, Register is undeterred. Many of EcoCity's ideas have reemerged in the city's general plan, including "car-free by contract" housing in which mitigations are used to eliminate or reduce parking. He argues that car-free housing should be considered just another type of specialized niche, like luxury housing, low-income housing, or senior housing. If parking must be built, Register offers the notion of "convertible parking," or garages with a floor-to-ceiling height adequate for conversion to another function once automobile parking is no longer needed. The organization is also working on a proposal for downtown Berkeley called "Heart of the City" that would transform a portion of Center Street from a paved roadbed to a creek-side pedestrian thoroughfare.

Digital

The transportation department has its own proposal for easing the parking problem. It is in the early stages of planning for digital signage at key gateways to the city directing drivers to vacant spots in downtown city-owned, university-owned, and private parking garages. According to Hillier, the IBI Group is the consultant to the transportation department on the project, the details of which will become public once the city council reviews the proposal later this year.

Density
SaraHope Smith has installed the first biodiesel pump in Berkeley at the Biofuel Oasis on 4th Street. The cost of ready-made biodiesel runs roughly twice as much as petroleum diesel. Some Berkeley residents make their own for about fifty cents per gallon (materials only).

With the addition of nearly 200 new units of housing in the summer of 2004 within walking distance of BART and approximately 300 more units under permit review, Berkeley is increasing the density of its downtown. Dan Solomon has designed the Berkeley Fine Arts on Shattuck and Haste using Klaus hydraulic parking lifts to create 55 spaces for 100 units; Margaret Ikeda and Evan Jones of Assembly designed the thirty-five unit Touriel/Darling Flower Shop Building at University Avenue with only five parking spaces. At Touriel, parking spaces are rented independently of the units, according to Jones. On both these projects, developer Patrick Kennedy was able to reduce the original parking requirements by designating 20 percent of the total number of units for low-income housing. Proximity to BART (within one third of a mile) allowed further parking reductions, but under current zoning regulations did not completely eliminate the necessity of providing some spaces.

Another multifamily residential project, Library Gardens, is under review at the site of the former 362-space Kittredge Street garage. The project stalled when developer John DeClerq lost the support of the business community by eliminating at least one level of subterranean public parking to save money. Each subterranean spot was estimated to cost $45,000. Downtown visitors and businesses continue to withstand a sizeable (roughly 25 percent) reduction in city public parking since the Kittredge Street garage met the wrecking ball in the summer of 2004.

Incentives, Disincentives

The Berkeley Daily Planet recently reported that because of widespread community opposition, the university is now reconsidering its plans to add 2,300 parking spaces on campus. And by offering commuter checks, parking discounts for vanpools, free transit, and other incentives, the transportation department encourages commuters to choose public transportation or carpooling instead of driving. Matt Nichols, principal transportation planner for the city of Berkeley, emphasizes the city is "making the most out of existing parking" with "short-term visitor parking" as the highest priority, and "commuter parking discouraged to free up spaces for short-term use, such as shopping." Rather than add university parking--which would be at odds with what the transportation department is trying to accomplish--Hillier would like to see Berkeley expand to employees and residents the existing AC Transit Class Pass program in which students ride UC shuttles, BART, and AC transit free of charge.
The Touriel Building on University Avenue, designed by Evan Jones and Margaret Ikeda of Assembly, has minimal parking.

Unrestricted on-street parking within one's residential zone is becoming a thing of the past. Once automatically offered, residential parking permits are no longer guaranteed for new residential construction. "In 2003 [transportation department] staff reported to [the] Berkeley council on the residential preferential parking program, and tried to emphasize that parking is a limited and finite resource, meaning it should be carefully managed, and it is not a resource which everyone has unlimited access to," explained Hillier.

Night and Day

UC Berkeley parking lots for students, faculty, and staff require permits for daytime use; the lots are accessible to the public during evenings and weekends for a fee. By designating prime-time restricted parking and off-peak general parking, UC serves two distinct populations and stretches the available parking supply further. Businesses like the Bank of America also offer public parking after 5 PM. Provisions for shared parking are written into city codes and regulations. DeClerq had been trying to negotiate a similar type of time-shared parking with the Berkeley YMCA at Library Gardens.

Fuel for the Revolution

Berkeley is responding to dwindling petroleum supplies and more stringent California emissions requirements with innovation. Several Berkeley organizations and institutions already use alternative fuel for transportation and others are following suit. Lawrence Berkeley National Laboratory vehicles run on biodiesel or ethanol from the laboratory's own pump. AC Transit is now looking into hydrogen. Watch for the light blue hydrogen fuel cell buses cruising around town, courtesy of Arnold Schwarzenegger and ChevronTexaco, although the anticipated three new buses won't stop to pick up passengers until fall 2005. Dave Williamson, recycling operations manager for the Ecology Center curbside recycling program in Berkeley, cautions that "hydrogen (as proposed) is not produced using sustainable processes."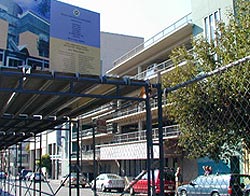 The City of Berkeley required Vista College to pay $3.6 million to the City to mitigate the parking and traffic impact of its new campus. The funds are now held in an escrow account, but may eventually help finance a new, seismically upgraded Center Street Garage opposite the new Vista building by Ratcliff Architects. Awaiting City Council approval, nine-story Seagate mixed-use development, also on Center Street, may include 160 below-grade parking spaces.

Berkeley uses 100 percent biodiesel (B-100) for its refuse and recycling fleets, fire trucks, and school buses. Leaders of the growing grassroots biodiesel community in Berkeley are both advocates of biodiesel and also the first to raise concerns over its limited potential for widespread use. There is concern over regulating the home brewing of biodiesel. Some worry that biodiesel will excuse Americans from curbing their excessive fuel consumption habit. Once big business gets hold of the idea, companies such as Monsanto may begin producing vegetable oil for biodiesel from genetically modified oil seed crops. Williamson and SaraHope Smith, founder of the Biodiesel Oasis with Jennifer Radtke, believe that that biodiesel is part of the solution to our fuel problem. Biodiesel could immediately displace less than 10 percent of our petroleum diesel fuel needs and eventually 25 percent. "Having a single-source solution is problematic," says Smith, who argues "we need to start visioning a future with multiple options," including other renewable fuels complementing biodiesel in the transportation marketplace.

Vision, Planning, Patience

Many of the transportation department's stated goals, such as using existing parking more efficiently and encouraging people to take public transportation, are universally well supported. Yet cars are so engrained in our lives that even in Berkeley, groups allegedly on the same side of the fence do not always agree on the best way to reduce automobile usage, but all concede it needs to happen, particularly downtown and along transit corridors. Increasing urban density and limiting sprawl become controversial goals only when reducing reliance on the personal automobile is understood to be a nonnegotiable means toward those ends.

Hillier underscores that parking, as a subset of driving, is a regional issue and that change needs to occur beyond Berkeley's boundaries. "A major challenge for Berkeley," he explains, "is to not only identify its position on sustainable transportation, but to pursue its own policies in the context of the Bay Area, where some neighboring communities are expanding in a suburban way ... while promoting more car use in the area. Berkeley has the opportunity to show leadership in this field... ."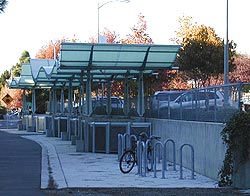 The city of Berkeley now provides secure bicycle valet parking at the Berkeley BART station and four other BART stations, including Embarcadero in San Francisco. Just north of town, the El Cerrito Plaza BART station has recently added new bicycle storage lockers alongside the Ohlone Trail.

Jones would like to see less restrictive parking requirements to help reconnect people with their surroundings. "Our office is in a great building built in the 1920s on Martin Luther King, Jr. Way. It has four nice ground-floor commercial spaces and six apartments above. This is a great model for the kind of small-scale development that provides a mixed-use building along a traffic corridor. This kind of building would be impossible to build under the current parking guidelines. The parking restrictions would eat up the entire ground floor and destroy the pedestrian environment," he asserts.

There is a strong support among diverse groups for making Berkeley more livable by encouraging vibrant mixed-use districts designed around people, not cars. SaraHope Smith insists that we don't have to renounce comfort and ease to have a sustainable city. She encourages "supporting the human side" of technology by "using technology with wisdom and greater simplification." One of the most inventive suggestions commensurate with a sustainable vision for the city comes from EcoCity Builders. In following ecological planning principles to their logical conclusions, they offer transfer of development rights as a strategy for defining clear-cut boundaries between developed and open space. Those boundaries would apply to the automobile as well. If a project such as the Heart of the City is successful, it may help (de)pave the way for more flexible zoning and sustainable development.



– Email Turk

Terrain, the magazine of the Berkeley Ecology Center, devoted its Fall 2004 issue to alternative fuel and vehicles.

Acknowledgements:
Thanks to SaraHope Smith and Dave Williamson for getting the wheels rolling.
Turk Kauffman is an architect and Lauri Puchall is a freelance writer. They live and work in Berkeley.
Original format at Line
This article has been excerpted from LINE, the quarterly design journal of the American Institute of Architects, San Francisco Chapter. LINE can be found at linemag.org.
---